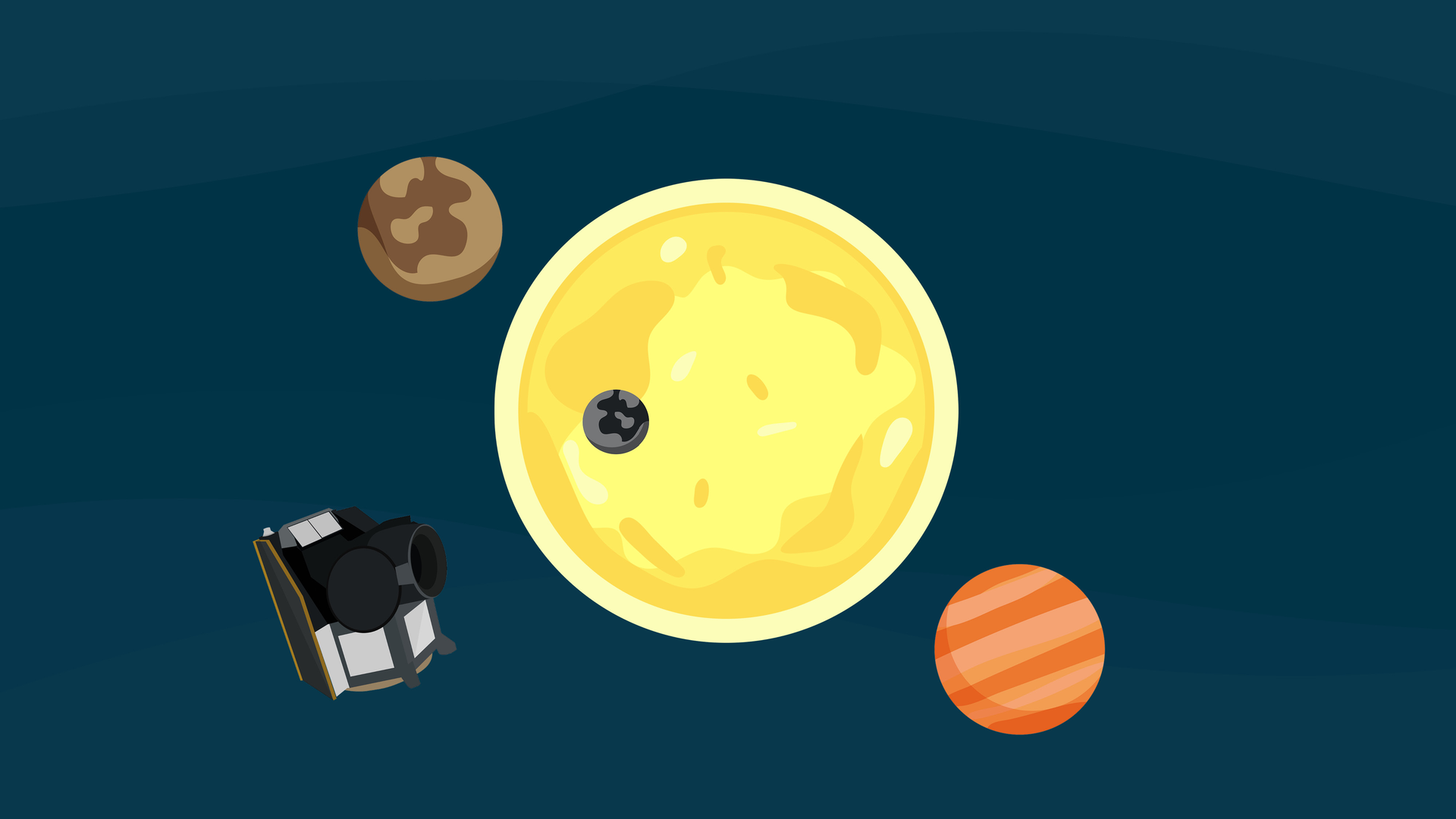 Cheops_illustration_pillars
Hack an Exoplanet is the first ever hackathon for secondary students organised by ESA Education. Students will profile two exoplanets, KELT-3b and TOI-560c, by analysing data from Cheops, a real ESA scientific satellite.
This activity is recommended for students between the age of 14-19 years old.  
Hack an Exoplanet is an educational activity developed by ESA Education in collaboration with ESA Science, with support from members of the Cheops Mission Consortium and the ESERO network. 
Students between the age of 14-19 years old studying in an ESA Member State, Canada, Latvia, Lithuania, Slovakia, and Slovenia can apply for the best project prize.
Yes! The hackathon activities are recommended for 14-19 years old, but younger students can still get involved.
If your student is aged 3-12, they can also join the ESA Kids exoplanet drawing competition until 28 February! Find out more here 
The virtual ESA hackathon took place on 18 April 2023. You can follow the event here.
Other hackathons organised by national organisers, schools, and other organisations will take place throughout the months of April, May and June 2023. For more information, check out the Get Involved page. 
There is no limit to the number of students who can participate in the ESA Hack an Exoplanet virtual hackathon event. If you are entering through a national organiser or school, you may wish to contact them to see if there is a limit. You can find a list of national contact points here.
You can find the timeline of the Hack an Exoplanet activities on the Timeline page.
Voting for your favourite exoplanet closed on 15 March 2023.
We are happy to announce that TOI-560c has been crowned as your favourite exoplanet! 
Cheops has observed the two exoplanets, KELT-3b and TOI-560c in early 2023.
KELT-3b was observed 22 January 23:20 CET and TOI-560c was observed 23 January 13:12 CET.
Spot Cheops in the sky whilst it records data!
The Hack an Exoplanet platform provides a variety of engaging materials about exoplanets, including:

the opportunity to ask a scientist a question,
If you are entering a hackathon through a school or national organiser, then you may be able to participate in your own language. Check with the organiser of your hackathon. A list of national contact points is available here.
If you are participating in the official ESA Hack an Exoplanet virtual hackathon event, then your participation will be in English.
Teams will receive a certificate of participation from ESA upon completion of the hackathon. Individual national organisers may have their own prizes.
If you wish to submit your hackathon project after the event, the deadline to do so is 14 June 2023. Teams who submit their project may compete to win the Best Project Prize: ESA goodies and participation in a webinar with 2019 Physics Nobel Prize Laureate Didier Queloz.
No, the hackathon materials are freely available on the platform in 21 language. You can access the materials here.
You do not need to sign up to participate in the ESA Hack an Exoplanet virtual hackathon event. 
Hackathon projects submitted to this platform from April 2023 will be displayed in the Project Showcase page (coming soon).
If you experience problems with your entry or have further questions, please contact the ESA Education Team by writing an e-mail to hackanexoplanet@esa.int. When applicable, you can also contact your local national organiser.